Testimonials
If you are happy with your Cat Locator System, please send us a picture of your pet along with any testimonial regarding your experience with the LoCATor System. We will put you and your pet on the site and be happy to give you a free 12 month battery pack.
To all at Cat Locator!

Just to let you know that your tracking-system did eventually reach us here in Cheshire (UK) and we are delighted with it. "Figaro" has taken to his new collar very happily & we use the receiver most days to find him in order to bring him in over night. It has certainly given us much greater peace-of-mind; we're even finding that it is reassuring just to hear the 'Beep, Beep' when we turn the system on & to know that he is not too far away. It has also been quite amusing to see his slightly bemused expression when we miraculously turn up out of the blue & seem to know where he is even when he has travelled out of his normal patch...!

Anyway, attached are a couple of photos of the man himself.

So, most of all a BIG "Thank you" is in order & we would highly recommend the system to any potential customers.

Regards,

Lindsay & David Vernon.
Have just received my order - providing loads of fun for us and great peace of mind. We have 6 wandering cats and are surrounded by fields, old vine houses , barns and small properties. Its particularly good to track them coming in for their evening meal! I manage a veterinary clinic here in Guernsey and we are always having clients ask if there is a way to see where their cats go. Now I can tell them there is. Have sent you some photos of part of the "gang". It is made up of 2 elderly Abyssinians, 3 very wandering Bengals, 2 ginger jobs and a very precious hand reared grey lady.
From a delighted customer,
Mrs Ann Macdonald
From Miss Tracey Bryant :
Dear Sir or Madam
I live in leicestershire in England and purchased off you a couple of months ago a Cat LoCatot tracking system for my burmese cat Fidget. I would like to say what an excellant product it is and how pleased I am with it. Before I had this tracking system it was a nightmare because Fidget would never come in when he was called and burmese love to wander and are very inquisitive.I used to worry myself sick where he was, if he had been stolen or run over. Now I can find him very quickly, no shouting and I can find him up a tree. As he loves to climb trees but never can get down. Thank you once again and I have just got another burmese kitten so when its old enough it will have it's tracking collar on. I enclosed pictures of my 2 cats.
Wriggle and Fidget:
Judy Edberg Wilmington, VT
Just wanted to let you know how much I've appreciated having the cat locator collars for my two girls. It was a bit expensive, but the peace of mind has been worth it. They were not happy being indoor cats, nor were they happy being on leashes. All the pent up frustration resulted in numerous cat battles. And the furniture wasn't faring too well, either. With the collars and radio device, I can know where my girls are and can find them when they don't come. Recently, I have used it to find the collar itself, when one of the girls came home without hers; to find one of the girls when she'd strayed an unusual distance; and most recently to find the same cat again...only this time she was not well and I was able to administer first aid. Without the collar, I would very likely have been unable to find her. The expense has been worth it.
I have two cats and one dog and I spend every summer with my pets (and my family) at our cabin in the Sierra Nevada mountains in California. I let the cats go outside during the day but always want them in by late afternoon because of the dangers of wildlife. Before I heard about the locator system, I spent several evenings searching and calling while one of them had decided to ignore me and stay out longer than allowed! Now that I have the locator system I can find them at any time. It is amazing how well it works. Sometimes they even come running when they hear the beep. My family thinks it is the best money ever spent because I get very cranky when I can't find my cats! Here are pictures of my "little angels" Puff and Darla.

Linda Bibb
Selma, CA
Puff and Darla
Dear Pet Locator
My wife of 43 years and I have had kitties all our married lives and up until a year ago lived with the frustrations of being owned by indoor/outdoor animals. We have spent many a sleepless night wondering if we would ever see them again. We once had a very special Siamese who disappeared for 21 straight days. We scoured the neighborhood, and basically the town, offered rewards and finally gave up after a couple of weeks. She was finally discovered 150' away from our house under a neighbors home in his crawl space. The neighbor had opened an access hatch to winterize his pipes and she followed him in undetected. When we got her back she had lost 25 % of her original body weight. How we could have used your product then. Over our many years, we have had many cats who have just disappeared into thin air never to be seen again. Presently, we have a very special Russian blue Manx we call "Commodore" and a very pretty little gray striped tabby orphan gal we call Victoria. We have had many of the same problems with them up until we acquired your wonderful product. Now, at any time of the night or day, we can pin point exactly where they are. Sometimes, when we are looking for them, they will come running when they hear their "beep beep" sound coming from the direction finder receiver. The system is very easy to learn and use and we only have to change collar batteries once every month and a half thanks to your great built in battery warning beep. Once again, thanks for your great product. It has put back the joy into being owned by cats.
Ben & Shirley Roth The Dalles, Oregon
Commodore & Victoria
I just wanted to send you guys a note to tell you how much the cat locator system has helped me. I have a small Jack Russell Terrier named "Taz." I live out in a rural wooded area and Taz loves to root around and dig and get under storage buildings and decks. He loves to tree squirrels and cats too. But he doesn't like to come when he is called if he has something cornered. The cat locator to the rescue, it has helped me find him numerous times. Thanks for a great product. I also have a spare transmitter that I use for locating a downed radio controlled airplane. Here are a few pictures of Taz.
Thanks, Jeff Robinson
Taz
Hi
We are from UK - and we think your cat locator is just brilliant! We bought it after one of our Snow Bengals went missing for three days. We looked everywhere but couldn't find him. In the end my husband wondered why the alarm on the house across the street kept going off. He had the guy who owned the house actually let him in to search - and there was Tora - very hungry and thirsty. It was about the worst three days of my life. So we bought the locator - and what a difference. Tora did exactly the same thing two days ago - only this time he had gone into someone's garage and climbed up a pile of boxes into their attic. Within two hours we had followed the beep and found him! I know that no technology is perfect - but quite apart from anything else it gives me a degree of peace of mind. We could never keep our cats as indoors cats - they love their garden and woods far too much - but I don't worry so much any more. Sometimes they even come when they hear the beep. Here are the two brothers in their collars.
Kind Regards Marion
Tora
Hi
Just wanted you to know that we LOVE the Cat Locator. It works GREAT and has relieved so much concern for us when our kitty gets out of our line of sight. With the Locator I can point it in the woods where he likes to sit and look at things and I know that he is still in there enjoying himself without me having to traipse all the way out there. I am so glad we found this product. And all of your suggestions have worked great---attaching the 'plane transmitter' to his harness and wrapping the long antenna around. We are a sighing a big sigh of relief around here. :-)
Jane Vaughn Deland, FL
Samson
Hi
I am just emailing you to tell you how pleased I am with my Cat LoCATor. I have put the collar on one of my cats who is prone to wandering. I lost her for nearly 3 weeks a few months back and it was just luck that I found her. Now with the collar on I can track her anytime. She still goes "missing" for a couple of days at a time, but now I can track her. It is so good to switch on the receiver and hear that beep. I don't ever worry about her now, as I always know exactly where she is. I only wish I had bought it earlier as I have another cat lost at the moment. He has been gone for a month, and I know that had I had a collar on him I would not have lost him. I would advise anyone with cats to purchase one of these systems. I have another 4 kittens, and as soon as they are bigger I will be buying a collar for each of them. The cost is nothing compard to the pain of losing a loved animal.
Thank you once again for a marvellous product.
Kind regards,
Linda Hammond,
Gers, France
Hello!
Thank you for all of your wonderful service and - especially - your wonderful product!!!

We received our Cat LoCATor a few weeks ago and are absolutely delighted with it. We live in an area where there are various types of wildlife - including coyotes - and it used to take me up to 3 or 4 hours to get all of our cats in for the night. Now, usually, it takes about 5 or 10 minutes. One of our cats comes to the "beep" and we don't have to even look for her. Another one we find quickly and encourage her to come in.

We plan on ordering one or more additional collars in the near future and will definitely recommend this product to all cat lovers.

But - once again, thank you for this wonderful product. You are saving me from a lot of grey hair and ulcers!

One other comment made by my husband this evening (and you can quote him) - "That Cat LoCATor is worth its weight in gold!"
Carrie Bowen,
B.C. Canada
I bought a LoCATor a couple of months ago to deal with a much-loved cat with a tendency to wander - it got to the point where he would be gone for days and we would get calls from miles away. Your product is amazing - it gives me and my wife peace of mind as now, whenever he has been gone for more than a few hours, we can easily track him up to two blocks away (and we live in very built up area). We now let him out with no fear of him being lost. Thanks for a great product.
Nicholas F. Kluge,
Ontario, Canada
Dear LoCATor--

We purchased our LoCATor some months ago for our "Milo" who, of our four cats, has the biggest case of wanderlust. Your product has lived up to all it's claims and has allowed Milo to
experience the outdoors without getting too far afield. I place the receiver on the kitchen table and am able to tell by the meter and strength of the beeps when our little adventurer is getting too far
afield.
The LoCATor system works with amazing accuracy after a I spent short time familiarizing myself with its operation. And now that Milo is used to it, the receiver's beeping sound acts as a call--more effective than our voices--and nine times out of ten will bring our Milo running. I especially appreciate low battery warning double beep feature as well as the overall high quality and durability of the system.
We purchased a few additional transmitter-collars and put these on our other cats as well if they are out for an evening stroll. We have no problem finding them and bringing them in at bed-time.
The only problem I have had was attaching a strap to the receiver so that when I find the kitty I can have both hands free to pick him up. I called your customer service who explained how to use the mounting holes on the back of the unit to attach an eye for strap. I certainly recommend the LoCator for any owner whose cats venture out-of-doors.Thank you for providing such a fine product!

Kurt & Marie
Sharon, MA
USA
Milo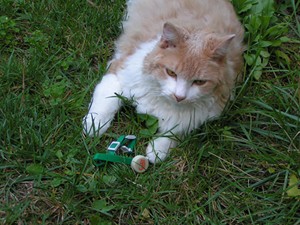 Hi!
Just wanted to let you know how much fun we are having with our new cat locator.Smokey is 3 years old and since he was a kitten has had a "problem" with wandering. His record is usually three days of absence in a row then out of the blue struts back home to us like he doesnt have a care in the world only concerned with if we remembered to refill his food dish.
Since the arrival of the cat locator we know what direction he wanders in and tracking him down is really entertaining!
Thanks,
Anne Marie Alden.
Smokey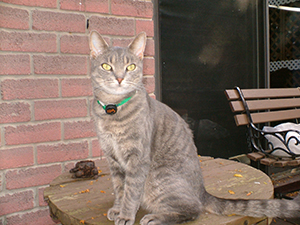 To the staff/owners of the Cat Locator,
I want to take a moment and sincerely thank you for the piece of mind this device has given me. This is a picture of Cooper on our deck, checking out the hummingbird feeder. We are on a golf course, but we have a few wooded areas around. Although, he is pretty much a home body, he does on occasion wander. Before, when he went missing for more then 3 hours we would look for him, but never knew where to start as far as direction. With his collar, we have been able to know just about where he is at all times.
We also have three indoor only cats. Cooper adopted us two years ago, when we were in NH. He was in a foot of snow, and the temperature was 40 below with the wind chill. The vet estimated his age to be around two. He would never stay in, so he is our only indoor/outdoor cat. I would highly recommend this collar to anyone with an outdoor cat. I can only say positive things about this device!
Sincerely,
Kathy Kettner & Cooper
Crossville TN
Cooper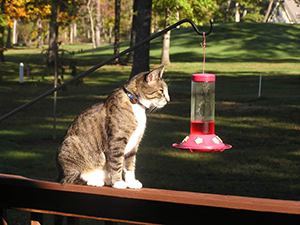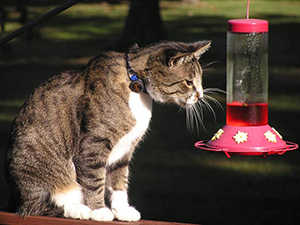 Hi Paula!
We are loving the CatLocator...cat-wrangling was never so much fun. Of course the neighbours now think I am some strange eccentric wandering around with an antenna, making funny beeping sounds.
Mari, one of our 2 tabbies, plays "the game" fair... as soon as she hears the beep getting loud, she acknowledges she's been found and pops into view. Jana, our wanderlust tabby seems to have figured out that a loud beep means mommy is getting close, so she remains in hiding. So, I just turn off the locator and sit still for a minute or two and, well, curiousity always wins out as she cannot resist coming to see what I am doing.
I've been waiting for this product for years... I did my undergraduate in Biology and used radio-telemetry to track Black Rat Snakes... so I knew we had the technology!
Many thanks again to you and your team,
Karyn
Jana & Mari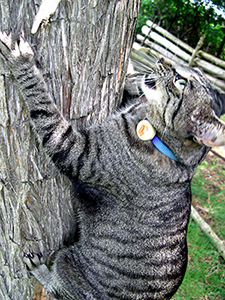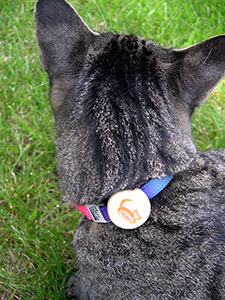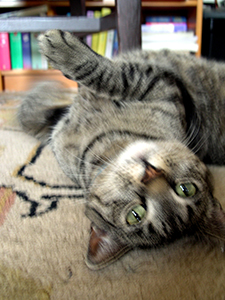 Hello catowners,
We live in Amsterdam and out cat Floris likes to play outside. Floris is a very curious cat and will enter anyone's home if a window or door is left open. So it often gets locked in.
We get really worried if Floris doesn't return at the end of the day. Since we have the Catlocator Floris can now enjoy more freedom and we can be more relaxed. If Floris doesn't come home by itself I can find him within minutes.
I was able to recover him from behind neighbours doors (staircases) three times already!
Also Floris tested if the Catlocator is waterproof by jumping into the channel, the results were good. Floris is a lot less water resistant than the Catlocator!
Met vriendelijke groet,
Bart van den Ancker
Software Engineer
CCS
Combined Computer Services B.V.
Floris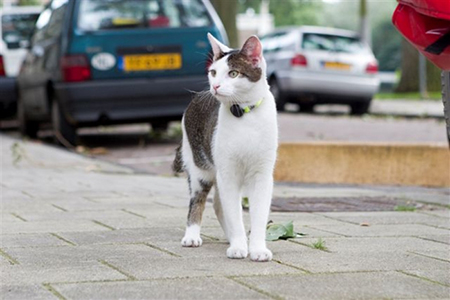 Hello, cat owners,

We live in Venice, Italy, with two wandering cats. Lilli is shy and she is always here nearby, but Martino, the ginger cat, is different. He was found when he was a kitten, wet, sick, hungry and wild along a canal, at night, three years ago. We decided to take him, and, before we purchased the Cat Locator, I was often very worried about him, when he didn't come home at night. He is no more wild, but he is curious and wanders all around. I have no fear he could get lost (he is far too clever for that), but he always follows people into the buildings, with a preference for palaces with gardens, or museums, so that he sometimes gets locked in: most people are pleased with his "visits", but some of them are not, and with very good reasons: last year Martino spent one night into a church, leaving his spurs on the precious, ancient altar table-cloths!

Now that we have the Cat Locator I feel really peaceful and untroubled, as I can easily go around with the Locator and find him quickly. At first our neighbours laughed a bit, but since they see that the "strange device" works very well, some of them ask me for the address of Com-Spec., saying that they also want to buy it.

So, thank you very, very much.

Maria e Giulio Lupo
Venice, Italy
Lilli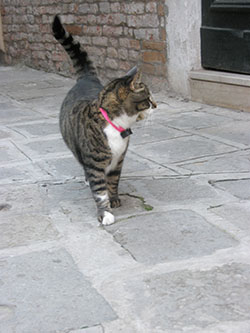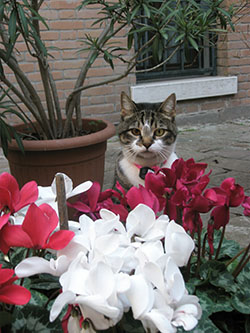 Martino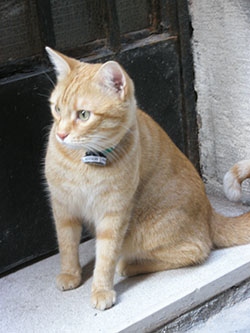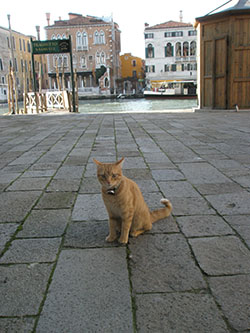 I just placed an order for another year's supply of batteries. I'm down one dog, I lost my old lady this past summer, but the other three still wear them every single day. The article I wrote that featured the catlocator and photos of my dogs wearing them appeared in both Hares 'n' Hounds as well as Performance Sighthound Journal. I'm attaching one of the photos from the article. Luckily, I have never had to test it's dog-finding capabilities. However, the collar did it's job one time when one of my dogs was trying to get some birds in bamboo thicket. The dog's collar got caught when she jumped up, and instead of hanging her, it came loose. I was able to track it down in the thicket. So, they seem to stay on very securely- I've never had one come off besides that incident- but apparently will come off if a dog is hung up.

thanks,
vickie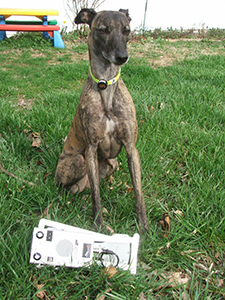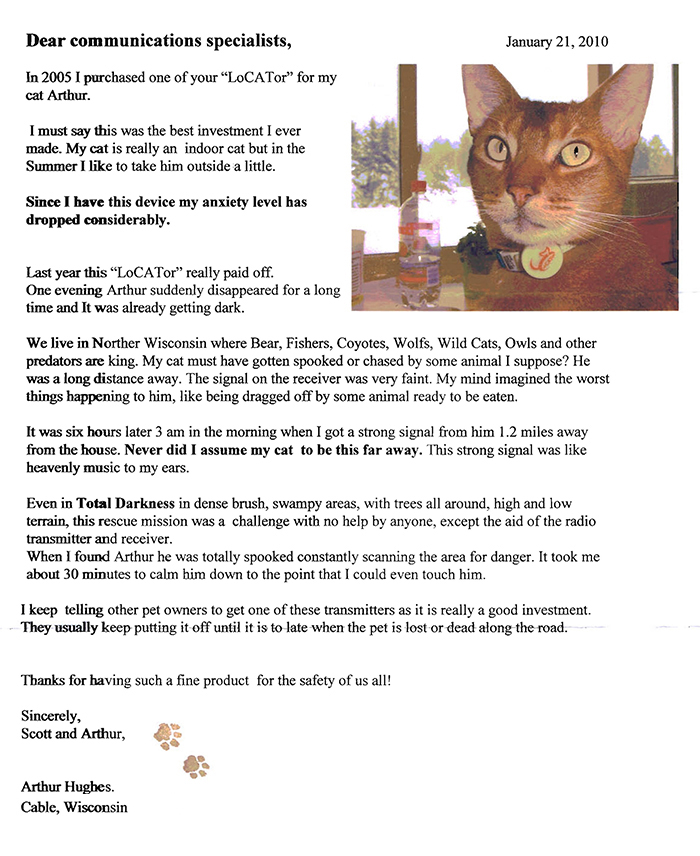 A testimonial for your company:
Four years ago, I got a blind cat named Gopher. After letting her play outside one day (what was I thinking??) and then searching for her for three hours, panicked, realizing what I had done, thank goodness I found her. That night I started looking for some kind of tracking collar, and ordered a Cat LoCator collar. She adapted to it quickly, and never left the house without it. She loved to sit outside in the sun, and would just sit by herself, sniffing the wind. She would run hopping through the grass, and chase one of the other cats (she could hear their footsteps, and follow them closely). Without the LoCATor collar, Gopher would never have had the joy she experienced outside, just being like the other cats. In the photo, she's on a stump that she loved to roll around on.
Now I have another blind cat, Frankie. He loves to be outside. When I tap the collar on the counter, he, just like Gopher, comes trotting over to 'get dressed' to go out. I have 40 acres, and he has gone way out into the fields, also up trees. When he hears the beeping, he starts toward me. Sometimes he starts to meow loudly, because he's stuck or disoriented. I never know what direction to search for him, and since he's blind, I know he could never find his way back if he got lost. Watching him, it's hard to believe that he's blind. Just like Gopher, he chases the other cats across the lawn. A group of them will wander down the hill to the alfalfa fields. And last week... Frankie caught a field mouse! I was so proud. Now he sits under the bird feeders, 'staring' (listening) up at them. Those, I don't think he'll get. When he's outside, I put traffic cones with a pink flag by the house so anyone driving in knows to be alert. Most visitors don't realize he's blind until they see him up close.
This week one of my other cats, Francine, had a stroke or a hidden head injury; the vet isn't sure. But she has lost her balance (nystagmus), and falls easily. I think she's recovering, slowly, but I can't risk letting her out; if she has another seizure she won't be able to get back to the house. I'm ordering an extra collar today so she can go back out into the yard she loves so much. She's Frankie's pal, so now they'll be a matched set!
Thank you for what you have done for my cats. It has been a joy to watch them feel free again.

Katie
Minneapolis, Minnesota
July 12, 2012

Frankie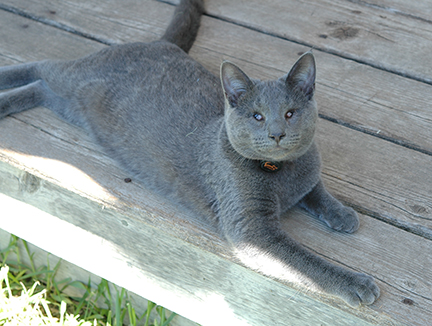 Gopher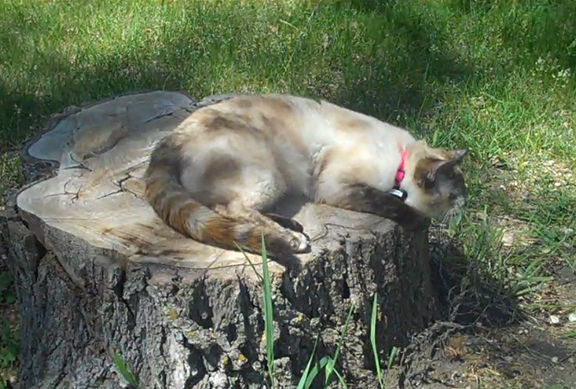 My ex-girlfriend has a small Wire Fox Terrier named Buddy that just loves to run. I purchased a dog collar for him and have used it extensively when he escapes out her front door. Sometimes people will find him and call the phone number on his tag before we even notice that he is gone, but other times he avoids capture at all costs. Well, one day she left him out in the back yard all day and when she returned from work, he was not there. He had tunneled out sometime in the previous 5 hours and was simply gone. She called me up and I immediately came over with my tracking receiver. We searched the neighborhood and could not pick up a signal so we knew he was far away. We drove ever-expanding circles around the neighborhood for almost two hours when we finally picked up a faint signal. We tracked the signal to a house several miles from her home but the signal was coming from the back of a truck parked in the driveway. We feared that he had been hit by a car and was in the back of their truck. We knocked on the door and asked if they had found a dog. They smiled and said that he was locked in their bathroom. What a relief! When he came running out, he didn't have his collar on. The husband went out to his truck to retrieve the collar for us and was gone for several minutes while the wife told us how much their little girl just loved Buddy. When the husband came in and handed me his
collar, the name tag with our phone number was missing. It couldn't have come off on its own. We are certain that they were planning on keeping Buddy as a pet for their little girl and if we hadn't had the capability of tracking him, we would have never seen him again. Thanks for making such a reliable and effective product for people who's pets are family.
Jason Cecchettini
Sacramento, CA USA
March 30, 2012
Buddy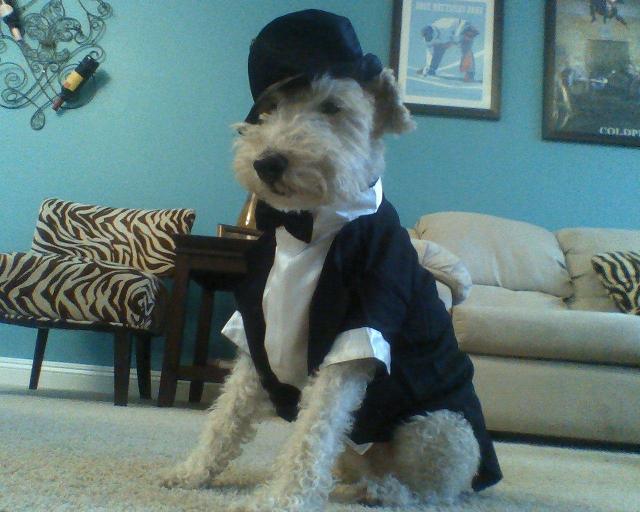 Hi Paula

I have been meaning to write to you for ages!

I wanted to let you know that we are ABSOLUTELY DELIGHTED with the Locator system. We have been using it for approximately 6 weeks now, and have had to use it on at least 20 occasions, and it has proved to be successful in tracking our two cats every single time!!

We live on a marina where holidaymakers come and go all the time, and it has given us tremendous peace of mind knowing that our cats are able to be traced should they accidentally be locked in a house or garage [which could be months before the owners return].

Thank you once again for a fantastic product … It has exceeded our expectations!!

Kindest regards

DENISE
Royal Alfred Marina
South Africa
March 20, 2012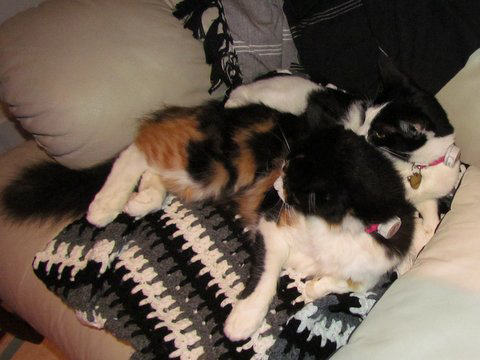 Hello Cat Locator,

Here's our 3-year-old cat Magic lying in the sun wearing his collar. We've spent a fortune building a fence to keep our cats in, and it's working now. But for awhile, Magic found ways out, and it's been such a comfort to know we'll be able to find him.

Our previous black cat Joey spent his entire life devising ways to escape, and we searched for years for some kind of device to help us find him. We even tried a GPS collar meant for a dog, a total waste of money. When we discovered the Cat Locator collar we were absolutely thrilled. Magic actually seems proud of his collar.
So we definitely want to thank you for easing our anxiety about our funny little wanderer.

Diane
Encinitas, CA
Dec. 2, 2011
Magic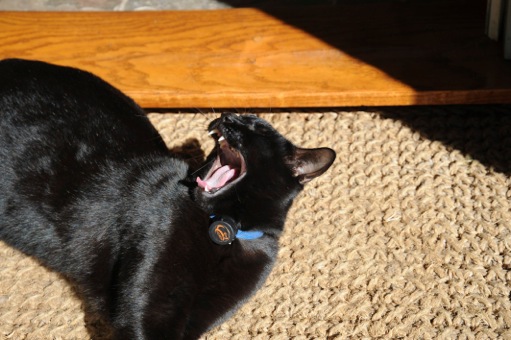 Dear CatLocator,


We have been using the tracker for years with both our cats, Zippy and Spunk. It is an absolute marvel. As our cats have two territories they "manage" at our home and summer place, the Cat Locator takes the worry out of trying to find them. We have tracked both cats several hundred feet into deep woods and been able to find them with no problem despite all the foliage, trees and undergrowth. The unit has proven sturdy and reliable, and we have no question that every cat we own from now on will wear one of these collars. I have attached some photos of our duo in action. Thank you for such a great invention.


Claire
Chester, New Hampshire
May 19, 2010


Zippy

Spunk
Dear friends,

Ralph IV showed up at our house in the country in May 2008, thin and scraggly. After he declared we were his peoples, a quick trip to the vet revealed he was about 6 months old, likely he survived the previous winter on his own, and that he was FELV+. Our time with him likely would be short. Fortunately, no one told Ralph. He thrived, but, even though the vet took care of his urge to wander, again, no one told him. He would be gone for 1 ... 2 ... and finally 3-4 days at a time. Unnerving as that was, he always returned home. Finally, one morning, he showed up thoroughly chewed up by something. I think it was at that point we decided we needed to be able to find him — just in case.

I'm probably in the minority, but I have an Amateur Extra Class FCC license, and I used to be a service manager in the electronics industry. I already was familiar with your parent company, Communications Specialists. I went straight to your website, and I guess the timing was right — you offered a transmitter small enough for cats. We ordered a LoCator collar and receiver that day. It was comforting for us to be able to triangulate his position, and over time, we discovered Ralph's favorite spots. When he was gone, he ranged from 1/4 to 1/2 mile away, and even though the signal sometimes was faint, we always heard his collar's heartbeat.

As we knew it would, the FELV finally caught up with Ralph. He lived nearly 6 years — much longer than expected. In March 2013, our vet came to the house and did what coyotes and 'coons couldn't do — she put Ralph down. Removing his LoCator collar was the last thing we did with him. We're glad for the peace of mind it gave to us knowing that we could find him and that while the virus ticked slowly, deep in Ralph's tissues, blood, and marrow, he wouldn't be alone when his time came.

We aren't ready for another cat, but someday we will be. Ralph's collar is faded, shredded, and well-worn, but its heartbeat, its pulse, is as strong as his was the day we placed it around his neck. Before I took out the battery, we turned on the receiver one last time ...

Laura & Andy
Timberlake, North Carolina
March 24, 2013
Ralph IV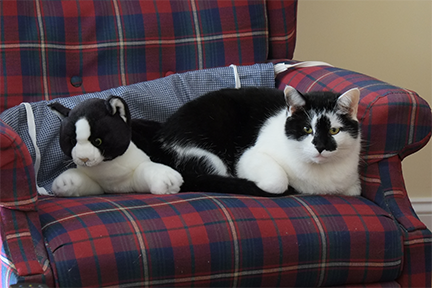 To the Folks at Cat Locator:

I purchased your collar several months ago after two incidents with one of my cats, MAX. Last Fall, Max had gone missing. I knew from the second night that something was wrong because Max never goes far for long from his food dish. Max had been a starving stray who'd I'd caught in a trap a few years (and 10 less pounds ago), assuming he was feral.

After a week missing, I looked everywhere and posted flyers all over. I finally concluded that he was trapped somewhere and probably not far. That thought was agonizing to me.I had lost a previous cat nearly twice who'd been trapped under an apt. building and had only found him through sheer luck. After three weeks went by, I finally gave up hope for Max. However, one night, Max came barreling over the fence. He was spitting mad and totally freaked out. He ate about three bowls of food and was beside himself. You couldn't touch him and he nearly took the faces off the other pets here. For two days, he wouldn't leave my side. If I even walked to the closet three feet away, Max rushed to follow me crying. It took a long time for this great big guy to return to normal.

About a week later, some neighbors informed me that some tree trimmers had had to get inside a spare garage about three doors down from me. The owner had been on a long vacation and has a large property. (I hadn't even known that there was a spare garage.) Apparently, they had been terrified by "a vicious bobcat" that leapt out at them who'd been living there. The description they gave my neighbor matched that of Max. He'd been locked inside for all that time without food or water and was probably half-crazed when the tree trimmers broke down the door. We're lucky he didn't end up with kidney failure or some such.

After this big trauma, I assumed that Max would never go very far away again. Of course, I was wrong.

Just three months later, Max again was missing. Again I went everywhere and started posting flyers. I asked neighbors to check their garages and went up to every one of the latter on the street to call for Max. Nothing. I couldn't believe that Max was gone AGAIN. However, this time, after a week, he came running up the driveway. I eventually concluded that he'd been in another garage, although the owners claimed they never saw a cat. I believe that they didn't see him and that he was probably being quiet around their retrievers and hiding somewhere.

At that point, I decided I had to find a way to track Max, just to save my sanity. A friend found the Cat Locator device. I promptly ordered one in the brightest color possible in case it ever fell off in the shrubs somewhere. The collar arrived in 24 hrs. and was fairly easy to figure out. Max has had no problem wearing it.

Even though he comes whenever I call him, sometimes there's a delay (since there are large properties here) and I reach for the ray gun as I call it. It tells me that Max is just the other side of the fence or in the next yard. A few times, he was hiding behind shrubs here and had a look of shock on his face when I found him. Only the very strong signal lets me know that Max could be right in front of me and yet be hidden from sight.

I have more peace of mind now, knowing that if Max fell asleep somewhere and got trapped, that I could locate him. I just don't want to risk his being half a block away but I'm unable to reach him. So, to me, the Locator is worth having. I also live in an earthquake zone, so that's another reason why I'm glad to have it.

A. Reed
Valley Glen, CA
July 19, 2009

Max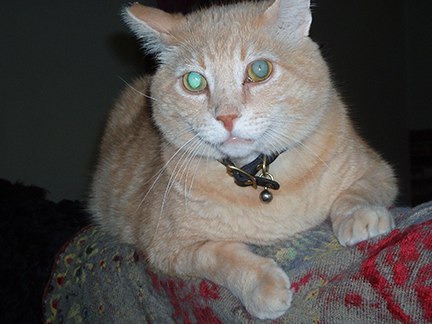 Dear Communications Specialists:

Five years ago our cat, Spencer, went missing. We spent two heartbreaking weeks sending out postcards, driving around looking for him, worrying and wondering where he was. I vowed that if he ever came back, I'd get him a tracker.

Well, he did show up, skinny and dirty, front claws worn down to the nub. A week later he had your LoCATer collar around his neck and has worn it continuously ever since. Then last Saturday he didn't come home for breakfast.

We got out the tracker. There was no signal in any direction from the house—very unusual. We got into the truck and less than a quarter mile down the street, a strong signal came from the woods just off the road. Unfortunately, there isn't a happy ending. The tracker pinpointed a scuffed spot on the ground. We found Spencer's remains, thanks to the LoCATor, buried under four inches of soil. Coyote tracks told the rest of the story.

As bad as it is, we were at least spared the weeks and months of postcards and searching and hoping, never knowing where he was or what happened to him. Even though the collar, still around his neck, was under all that dirt, we were able to get a strong enough signal to find him. Within fifteen minutes we had closure and were able to take Spencer home to bury him and mourn our loss.

I very highly recommend your LoCATer tracker to anyone who has an outdoor cat. The closure it brought us is priceless.

Thank you
Tom

Tom Sullivan
Marshfield, MA
Sept. 27, 2013
Spencer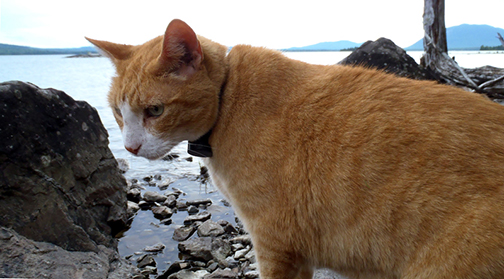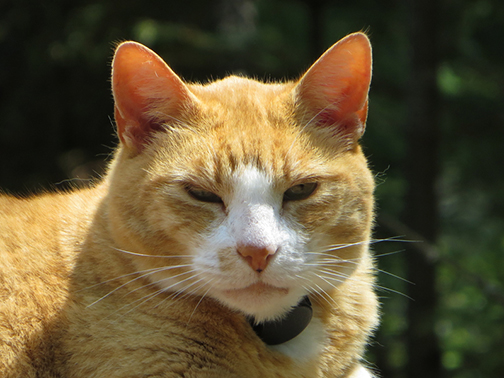 Hello!

What peace of mind this is! We have had cats in the past, always indoor, but would let them outside under supervision. Of course, they would inevitably get out of sight at times and send us into tracking mode, which was never easy. We live in the mountains of NC and really wanted to find something that would allow us to keep track of Tiki. The GPS collars really aren't an option for us, as there are some areas up here that would have very poor or no coverage. The LoCATor came up during one of my searches online from an Amazon review of another product. They had such great things to say about LoCATor compared to the competition, that I was sold. I looked up your site and made the purchase immediately. We have done several tests and are extremely happy with the performance - even in our hilly, heavily forested terrain. Tiki is 5 months old and took to the collar without any issues. I would highly recommend this to anyone looking for a pet tracking product.

Warm Regards,
Pamela A.
July 21, 2013
Tiki